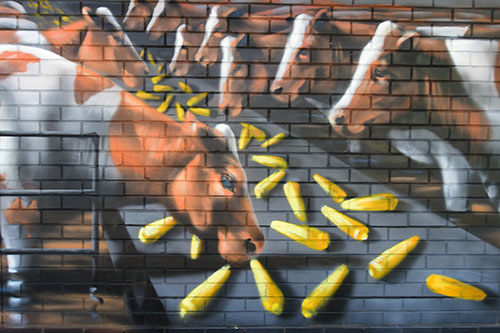 I am an Artist/Graphic Designer living just outside Benalla. Although I have drawn all my life I only started painting in 2005 and can't stop. I paint to try and make sense of the crazy world we live in! I predominently paint in oils on canvas but often play with acrylics and watercolour. I have painted a few murals in and around Benalla.
Since being part of the Wall to Wall festival 2016 with my depiction of Gandhi I have fallen in love with aerosol cans and look forward to being part of the 2017 festival.
I conduct regular art workshops and have taught art to the disengaged youth in both Benalla and Wangaratta. I currently work from my studio space at NEA (North East Artisans) in Benalla. I have won awards for my artwork including the Mansfield 'Three Faces portrait prize' and won 'Peoples Choice' in Benalla Art Exhibition 2015 and 'Best in show' at Benalla Art Exhibition 2016.
My depiction of Malcolm Turnbull was part of the 2016 travelling Bald Archy prize. I had a very successful solo exhibition at Benalla Art Gallery, sold many works and taken on commissions ever since.
I am a founding member of North East Artisans where we hope to encourage others to be creative and create a thriving arts community here in Benalla.